The 4th Industrial Revolution brings new innovative ideas and opportunities that will lead to world-changing shifts. However, amidst these advances in research and technology, problems continue to arise.
Take for example, our children's education. As citizens and parents, we all recognize that our most precious resource is our children, and it's our responsibility as a society to provide educators and children with the best resources, funding, and experiences to live life to their fullest potential.
The key to providing the best education centers on several fundamentals that a teacher must possess: being a subject matter expert in their field, having an extraordinary relationship with children, understanding the experiences that students must receive to master the lesson.
Better Education Encompasses Three Fundamentals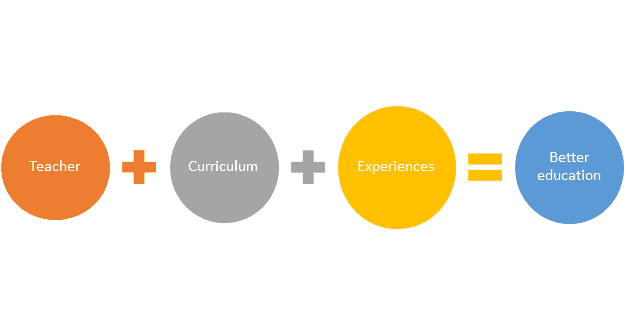 Thankfully, developing Science, Technology, Engineering, Arts, and Mathematics (STEAM) courses into schools will help to bridge the skills gap identified at current worksites. When students learn differently it brings in critical thinking and technical skills to one realm where it becomes ingrained into a child's education.
The skills gap arises when workers need additional training to complete the required tasks for their jobs. Workers who lack these skills lose out on possible promotions, while companies' profit margins flatline.
To avoid this dilemma, schools and businesses must collaborate to develop and foster these life skills. STEAM courses provide the framework where the collaboration becomes the catalyst in this transformation. When effectively implemented, it will change teacher-centered lessons to student-centered, thus encouraging more students to explore vast careers in technical fields.
The table below identifies key areas in developing skills into STEAM Courses
Upscale Critical Skills Through STEAM Courses
Assessing student mastery
Pacing appropriately
Providing multiple real-world experiences
Mirroring skills and competencies that the industry needs
Modeling and developing products and processes
Bringing in resources and extensions outside of the lesson
Integrating new technologies
Every part conveys a specific and unique purpose. Omitting one component from the design could cause complications in ensuring that all learning modalities are tapped.
Educators and businesses must not only implement these components in lessons and professional development but also consider the best way to safeguard that these skills will never be lost from schools to the worksite.
That's why success depends on the skills, the relationships, and the network in which educators utilize them and the sooner we focus on this concept, the sooner our communities will see that their efforts of the whole are greater than that of individuals.
This is the future of work – this is how employees must think and operate.
And a great way for anyone to improve themselves is to advance their knowledge and skills simultaneously.
One place that can be done is at the National Education Foundation (NEF) University where there are close to 10,000 courses available.
A main reason why I like this is because the Foundation does a subscription for a period of time versus paying by course. The end result could produce several certifications in multiple courses that Fortune 500 companies seek out in a candidate.
Schools and Nonprofits can also get in on the action as the NEF courses as well. They can even take courses at 90% off the original price or even for free. Interested organizations should check them out at STEM NEF
To view other blogs that I've written can access them here.
[wp-faq-schema title="Some basic facts about STEAM" accordion=1]